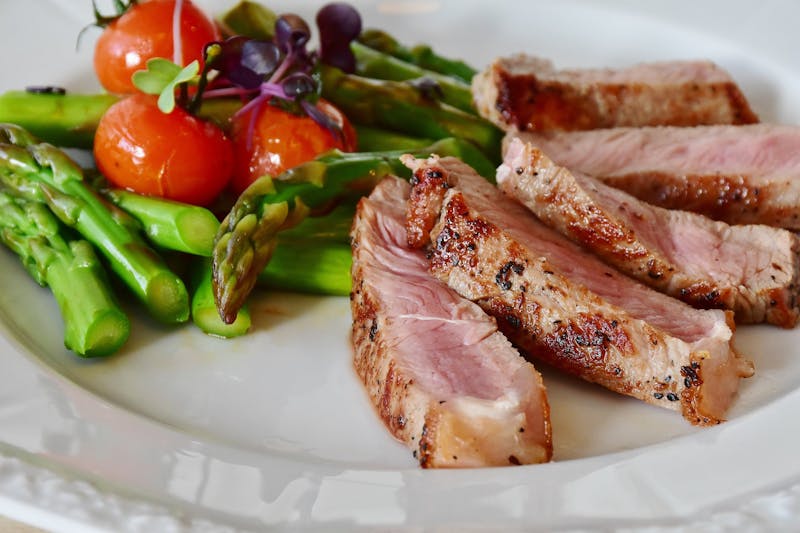 Now that you have a background on what the hCG diet is and how it works, your next question is probably, "what can I eat on the hCG diet?"
Even though your daily calories and pretty low in the early stages, there are still a lot of foods you can choose from.
Breakfast on the hCG Diet
Skipping breakfast is a big part of the hCG diet. This not only helps you save calories, but it offers all the benefits of intermittent fasting (although the hCG diet was popular way before fasting was a trending topic).
When you wake up, you can have as much black coffee or tea as you'd like. You'll have to skip the sugar, but you can use stevia in its place. As for milk, you're allowed one tablespoon in a 24 hour period, so you'll have to divide that up between the coffee and tea you drink.
hCG-Approved Lunch and Dinner
Your lunch and dinner meals provide around 250 calories each and are built off the same template. You'll start with 150 grams (or about 5.3 ounces) of lean meat. You can choose from:
Organic grass-fed beef or veal
Organic skinless chicken breast
Wild sea bass
Flounder
Halibut
Cod
Lobster
Crab
Shrimp
After you've chosen your meat, you choose a handful of one of the following vegetables:
Spinach
Swiss chard
Beet greens
Lettuce (any kind)
Cabbage
Tomatoes
Celery
Fennel
Onions
Red radishes
Cucumbers
Asparagus
To finish your meal, you can add one grissino-style breadstick or one piece of melba toast and a medium apple, a small handful of strawberries, or a grapefruit.
Other hCG Diet Rules
Now that we've answered the question, "what can I eat on the hCG diet?", there are some other basic rules and guidelines that you should follow for best results.
Don't make the same lunch and dinner in the same day. Varying your food choices helps optimize your nutrient intake since different types of foods have different vitamins and minerals. If you have chicken and spinach for lunch, opt for beef and cabbage for dinner.
Only use dry cooking methods like grilling or baking for meat. Don't add any fats or oils.
You can eat vegetables raw or steam, grill, or lightly boil them. As with the meats, don't add any fats or oils.
You can use unlimited amounts of fresh herbs, sea salt, apple cider vinegar, and/or liquid aminos to flavor your food.
Drink at least 64 ounces of filtered water daily.
Include green tea and oolong tea whenever possible (this doesn't count toward your water intake).
You can drink the juice from one lemon daily.
If you include fruit with your meals, make sure it's organic.
Use a scale to weigh your food and use gram measurements, which are more accurate.
Weigh your food raw.
If you feel confident about the hCG diet and you're ready for some recipes, send us an email at [email protected] with 'hCG" in the subject line. We'd be happy to send you a list of hCG-friendly recipes that we've compiled for our clients!