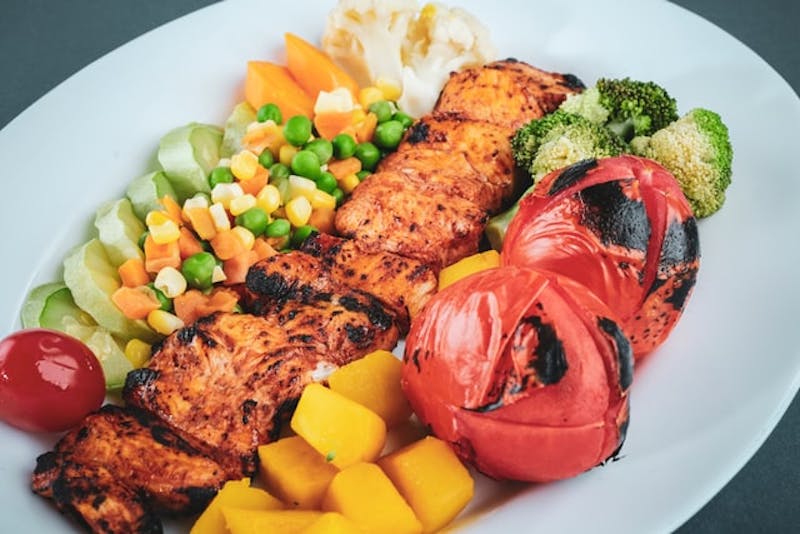 The HCG weight loss program maintains a strict low-calorie diet to help you lose weight fast
If you've been looking for a way to lose weight fast, then you may have already heard of the HCG program.
It's a program that includes bi-weekly injections of HCG and a limited calorie intake of only 500 calories per day.
It's been helpful for many of our patients to lose weight quickly. The diet helps you curb cravings & reduce appetite while cutting calorie intake low enough to lose significant weight in a short period of time.
Here's a breakdown of how the diet works and what you can eat on the die.
What can you eat on the HCG diet?
The HCG diet helps you lose weight fast by drastically cutting calories for a select period of time. And while on the diet, you want to use your allotted calories to get the most nutrient-dense foods available.
It's a diet that doesn't require exercise, and in fact, exercise is not recommended during this diet because of the low calorie count.
The diet can help you start cutting out unhealthy foods that don't contribute to your overall health. On the diet, your calories are cut low to only 500 to 800 calories each day. With this amount of food, you must be thoughtful about what kinds of foods you eat so you ensure you get the most nutrient-dense food in these allotted calories.
Many patients have noted that being on the diet helped them learn how to eat well and stop craving the unhealthy foods like chips, sweets, and sodas that were preventing them from sticking to a weight loss plan before. While they would not want to be on such a strict diet forever, and learned how to diet effectively within a normal calorie range. They also found that being on it to start their weight loss plan helped them see progress early. When they saw progress early, it motivated them to keep going and to hit their goals, even after they stopped the HCG diet.
Below is what a typical day might look like on the HCG diet and some of the foods allowed.
Breakfast:
It's common to skip breakfast altogether. Since there are only 500-800 calories permitted within a day, timing your meals for later can help you curb hunger as you go through the day.
At most, some people have coffee or tea without any sugar added. Some will add one tablespoon of milk, but that's the largest portion of milk permitted within a 24-hour period.
Lunch:
150 grams of grilled meat with no added oil or butter
Some of the approved meats for the diet include grass-fed beef, skinless chicken, flounder, halibut, cod, shrimp, lobster
1 large handful of vegetables. These can be eaten raw, boiled, grilled, or steamed as long as there is no added oil
Some of the approved vegetables for the diet include spinach, tomatoes, celery, onions, cabbage, and any lettuce or leafy greens.
As for carbs, you get:
1 breadstick
1 medium apple, 1 grapefruit, or a handful of strawberries
Dinner:
For dinner, you eat the same foods as for lunch.
But it's important that you do not make dinner the same as your lunch. You want to include a variety of foods in your diet so you get a range of the vitamins and other micronutrients offered by these different foods.
Exclusions:
Essentially everything else.
But the diet does allow for the use of herbs, sea salt, Bragg's amino acids, and apple cider vinegar to flavor your meals.
You also must drink 64 ounces of purified spring water daily.
How to safely do the HCG weight loss program
The HCG weight loss program isn't meant to be a long-term diet. Most patients stay on the diet for 3 to 6 weeks. But how depends on your overall health. It's also important to work with a doctor while you're on the diet so they can monitor your progress.
Since it requires significant calorie reduction, you want to make sure you work with a professional who can routinely check your reaction to the diet and make adjustments as needed for the few weeks you follow the diet.
It's also important to work with a professional who can help you keep the weight off when you've reached the end of that HCG period. Staying at 500 calories isn't sustainable in the long run, and it's important to learn how to manage calorie intake for long-term weight loss and maintenance.
For our patients, after their HCG diet period to drop significant amounts of weight fast, we set them up for long-term success with diet and exercise plans to promote long-term health.
To get professional medical guidance for this program, come into one of our centers and we'll be able to go over your health history, goals, and whether or not the HCG weight loss program is right for you.