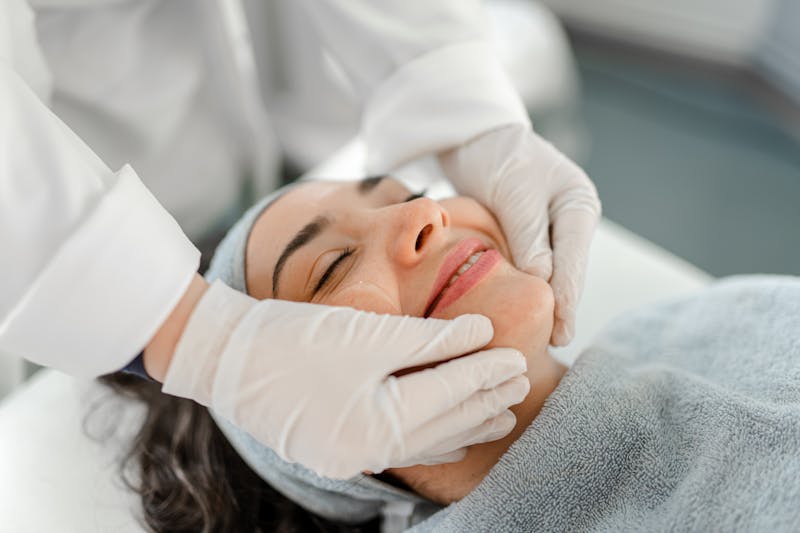 Ever wondered whether you should go to a med spa or a standard spa for your aesthetic treatments? While both options provide you with professional skin and body care, there are some vital differences. Knowing when to seek professional advice for your skin can be complex. Let's dive in and discuss when it's time to consider med spa skincare treatments.
What Is the Difference Between a Regular Spa and A Med Spa?
The service range between a regular spa and a medical spa varies greatly. This goes beyond each spa's signature range of services to how advanced their treatments are, and what type of results can be expected.
Regular Spa
A regular spa, often referred to as a day spa, is designed with relaxation and pampering in mind. Services offered at a day spa typically include facials, massage therapy, body wraps, waxing, and manicures and pedicures. The treatments are designed for self-care and to refresh and beautify. Various products and techniques are implemented to enhance one's appearance and promote a sense of well-being. While aestheticians at a day spa can offer advice on skincare, they are not medical professionals, and their treatments are not designed to address significant skin health issues.
Med Spa
Short for "medical spa", a med spa combines the relaxing environment of a day spa with the medical expertise of healthcare professionals. At Valley Medical Weight Loss and Med Spa, this includes our naturopathic doctor and aesthetic nurse injector. We are equipped to deliver advanced and scientifically proven skincare and anti-aging treatments. Instead of just booking your appointment, which you can do if you know what you want, we provide a consultation to analyze your skin and discuss your individual skincare needs. Then we advise on which treatment or combination of treatments will target and rejuvenate your skin.
Some of our solutions stimulate the body's natural healing response while others utilize fillers and threads for temporary results. The result is often any combination of lifting, toning, smoothing, plumping, and rejuvenation.
We can advise on improving the appearance of:
Fine lines
Wrinkles
Crepey skin
Loose skin
Hyperpigmentation
Sun spots/livers spots
Scaring
Acne scars
Acne indentations
Cellulite
Targeted fat reduction
Hair loss
And more
When to Visit a Med Spa?
Skincare is a vital aspect of overall wellness and personal aesthetics. Beyond the importance of aging with grace, looking how you feel can boost your confidence and self-esteem. Maintaining an at-home skincare routine and upgrading your product range as your needs evolve is essential. However, professional intervention may be required to address specific skin concerns or to achieve desired results. Below are 10 reasons to consider med spa skincare treatments.
#1 Preparing for a Special Event
Aesthetic treatments are ideal any time you are preparing for a special event you want to look your best. From a wedding to a high school reunion, public speech, vacation, or anything that will be commemorated in photo or video.
#2 Major Life Event
There are life events that age and place stress on the body. This includes pregnancy, breastfeeding, menopause, other hormonal fluctuations, accident, surgery, and injury. There are a variety of treatments that may be able to rejuvenate skin, restore laxity, and fade scarring.
#3 Individual Skin Issues
There's only so much you can do to improve the tone, texture, and appearance of your skin with over-the-counter skincare products. If you've been diligently following a skincare regimen but aren't seeing improvement it may be time to seek targeted treatments from a skincare professional.
#4 Changes in Skin Texture and Tone
It's easy to forget, but your skin is your largest organ. Its condition and appearance will evolve, meaning how you care for your skin needs to evolve too. This might include increased dryness or oiliness, dullness, uneven pigmentation, or any other visible or physical changes. Personalized treatments and professional advice can restore balance.
#5 Chronic Acne and Breakouts
If you haven't yet, it's time to schedule an appointment with a dermatologist to discuss prescription acne treatments. Once your acne is under control, scarring, and skin indentations remain. There are a variety of med spa skincare treatments that may be able to smooth indentations and accelerate the rate at which scarring heals.
#6 Hyperpigmentation and Sun Damage
Hyperpigmentation refers to anything that leaves areas of your skin darker than others. This includes sun spots, age spots, melasma, and scars of any kind. Hyperpigmentation is difficult to treat at home. We offer a variety of pain-free or minimally invasive options that can even out your skin tone.
#7 Traditional Options Aren't Working
There's often a tipping point where traditional spa treatments and at-home products aren't as effective as they used to be. Upgrading your at-home products may help, but they can only go so far. This is the ideal time for medical-grade treatments that stimulate natural collagen production and cellular repair.
#8 Premature Signs of Aging
Premature fine lines, wrinkles, and elasticity loss can be caused by a variety of factors.
This includes:
Genetics
Overexposure to UV rays
Smoking
Chronic stress
Insufficient sleep
Poor nutrition
And more
Aging is inevitable, but we may be able to reverse some of the damage and slow down further damage.
#9 Natural Signs of Aging
There are a lot of misconceptions about med spa skincare treatments. Valley Medical Weight Loss and Med Spa offers a variety of options that are pain-free or minimally invasive. Every med spa's treatment range differs, but we prioritize treatments that are effective, long-lasting, and don't take a lot of time pre, post, or during treatment. This empowers you to address the natural signs of aging in a manner that fits in with your busy lifestyle.
#10 You Want to Explore Non-Surgical Anti-Aging Options
Surgery isn't for everyone. If you are open to surgery, it may be worth exploring non-surgical options first. Or exploring your non-surgical options post-surgery. If you aren't familiar with the results that can be achieved with med spa skincare treatments, take a look at our Before and After Gallery!
What Are My Non-Surgical Options?
Now that you know when to consider a med spa, let's review some of your top treatment options.
Thread Lift
In terms of your neck, thread lifts can lift the jowl area. They also lift the mid to lower-face and stimulate collagen production for up to 2 years. You'll see the difference when you walk out the door! Learn more HERE.
Forma Facial
Forma facials can be used on your face and neck. This is a generally pain-free combination of radio frequency and heat that targets the dermal layers of the skin, boosting collagen production. Multiple treatments are required.
Learn more HERE.
Morpheus8
Morpheus8 can be used on your face and neck. It is a combination of radio frequency and microneedling designed to rapidly remodel and rebuild collagen. You'll see results after 1 visit, but you may require more than one treatment for optimal results.
Learn more HERE.
Hyperdilute Radiesse®
Your lips and face may be the first thing that comes to mind when you think of fillers, but Hyperdilute Radiesse® is thinned out with a combination of saline and lidocaine to boost collagen in areas other than the face—including the neck. It also revitalizes collagen production to reduce volume loss and smooth wrinkles.
Learn more HERE.
Bellafill
Known as the 5-year dermal filler, Bellafill is a collagen-based gel that instantly lifts and smooths the skin. It corrects both wrinkles and skin indentations caused by acne, cellulite, and skin trauma. For acne scarring, it will need to be administered more than every 5 years.
And More!
These are just a handful of the aesthetic services we offer at Valley Medical Weight Loss and Med Spa. We will talk you through the best options to achieve your skincare objectives during your consultation.
If you live in Phoenix, Tempe, or Glendale—reach out to Valley Medical Weight Loss and Med Spa to discuss which med spa skincare treatments are right for you!