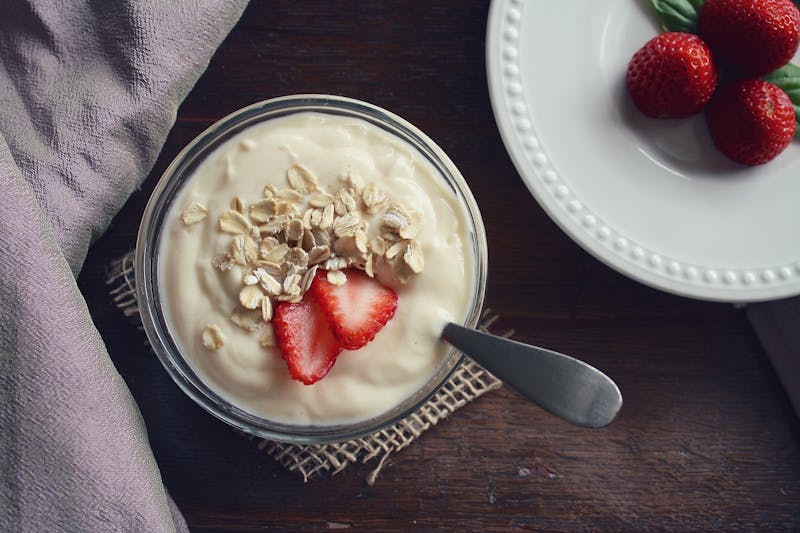 Since 2010, more than 670 new yogurt products have made their way into your local supermarket. Manufacturers market these yogurts as a healthy, waist-reducing option, but that's not always the whole story. It's true that yogurt can make for a great breakfast or on-the-go snack, but you have to choose wisely. Some contain almost as much added sugar as a can of soda! Others may not have added sugar, but are loaded with artificial ingredients. Yogurt can quickly turn from "healthy" to "junk food" if you're not careful. With so many choices out there, how can you narrow it down? Should you make yogurt a part of your diet or should you skip it altogether?
Because yogurt is a rich source of calcium and protein – and many have the added benefits of live cultures that can improve your digestion – we think that it's earned its place in your diet. We're going to make it simple for you to choose a healthy yogurt by letting you know what to look for and what to avoid.
Sugar in Yogurt Isn't So Sweet
The first thing you should do when choosing a yogurt is check the sugar content. Flavored yogurts and those with fruit on the bottom contain approximately 26 grams of sugar – that's a LOT of sugar. Some of this sugar is naturally occurring, but about 14 grams are added – and those are the grams you want to avoid. Steer clear of any flavored yogurts or yogurts with added fruit or granola and opt for plain, non-fat varieties, which contain only 6 grams of naturally-occurring sugar, instead. You can spice up your yogurt by adding some fresh berries, a handful of crushed nuts, or some chia or flax.
Investigate the Ingredients
The only two ingredients needed to make yogurt are milk and live bacterial cultures — specifically Lactobacillus bulgaricus and Streptococcus thermophilus — yet many commercial brands add unnecessary ingredients like sugar, artificial sweeteners, preservatives, and gums. Read the ingredient list and choose one that contains only milk and live, active cultures.
Figure Out the Fat
Yogurt comes in three main varieties – nonfat, low-fat, and full-fat. Full-fat yogurts typically contain 16 grams of saturated fat, which is about 80 percent of the amount you're supposed to eat in an entire day! Instead of getting a full-fat yogurt, opt for low-fat or nonfat instead. You can add in your own healthy fats – in the form of a handful of nuts or a drizzle of almond butter, if you'd like.
Protein Power
Protein promotes fullness, so choosing a yogurt that is higher in protein makes it more likely that you'll get through the afternoon without overeating or reaching for unhealthy snacks. A 6-ounce serving of regular yogurt contains 9 grams of protein, while the same 6-ounce serving of Greek yogurt contains about 15 to 20 grams. Opt for yogurts that have a higher protein content.
We want to hear from you! What's your favorite? What are your go-to yogurt toppings?