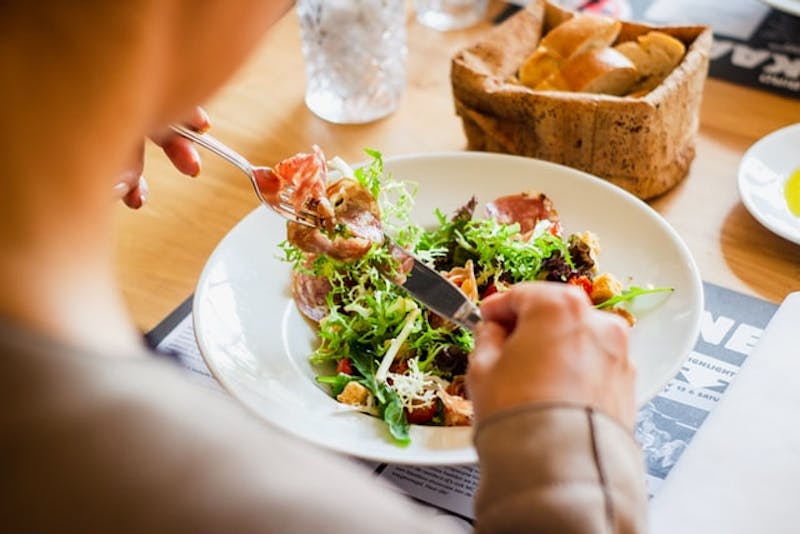 Learn 5 effective diets for weight loss so you can better understand which diet might be better for your weight loss goals.
With so many diets out there, you may wonder: Which diets truly work?
It seems like every week there is a new fad diet and a lot of hype around a "secret" solution for weight loss.
The truth is that what it takes to lose weight isn't much of a secret. There are a couple of features your diet should have if you want to lose weight–and the most effective diets for weight loss all have these things in common.
What is necessary for weight loss?
There are certain similarities between most diets, especially if you're following that diet to lose weight. When you start a diet to lose weight, you'll want to ensure your diet helps you do these two things: achieve energy balance and cut out processed foods.
Achieve a calorie deficit
To lose weight, it's important to achieve the right energy balance.
Energy balance is when the number of calories you eat is equal to the number of calories you burn. There are a lot of factors that influence your energy balance, like exercise, genetics and body composition. But one of the most important factors is diet because that is how you consume calries that get used by your body.
When you want to lose weight, you want to change the balance of energy in your body. Instead of taking in too many calories to burn, or instead of taking in just enough to remain at the same weight, you want to achieve what's called a calorie deficit.
A calorie deficit is when you consume fewer calories than your body burns overall.
Achieving a calorie deficit is important for any of the effient diets for weight loss. But it's also true that your weight is related to many factors of your body and health working together. That is why it's important to not just focus on calories alone but to also look at other health factors and activity level when you start a diet to lose weight.
2. Cut out processed foods
Even diets as polar opposite as the carnivore diet and the vegan diet have one thing in common: they cut out the vast majority of highly processed foods found in the American diet. You'll find that this is true of almost every diet out there.
Food is considered processed if it's been altered in any way during the preparation or packaging process. Some processed foods make only slight modifications–like baby carrots or canned vegetables. But other processed foods change so much that they lose their original nutritional value and have so many additives that they're in many ways unrecognizable compared with the original food it was derived from.
Processed foods are particularly unhealthy because of the high levels of sodium, fat, or sugar they contain. Diets high in all of these are correlated with obesity, heart disease, diabetes, and many other conditions and diseases.
As far as weight loss, these foods are particularly damaging to weight goals because they are not filling but have more calories than whole, natural foods. It's easier to eat more calories than you should when you eat heavily processed foods. And it's made especially easy to overeat when you consider how addicting these foods are as well.
5 effective diets for weight loss
Although it's important to achieve energy balance and reduce your processed food intake, there are multiple effective diets for weight loss. There is not a single, one size fits all solution that everyone who wants to lose weight must follow.
Instead, with the right knowledge and support, you can achieve your weight loss goals with a diet that suits you. There are diets that emphasize carbs, and other diets that cut carbs out. There are diets that manage the timing of meals while other diets are more flexible.
You can choose to eat food that suits your taste and lifestyle while still losing weight.
Mediterranean Diet
The Mediterranean diet is consistently ranked as one of the best diets–if not the best–for overall health. It is one of the most helpful diets to get diabetes and heart disease under control.
The diet can be helpful specifically for weight loss goals as well, but it does require being proactive about calorie counting. There is a bigger variety in what you can eat on the Mediterranean diet versus other diets. It's a diet if you want more flexibility and don't need as much structure.
The Mediterranean diet is also a primarily plant-based diet, but you can eat meat in moderation. Another bonus of this diet is that some who want to be able to continue drinking wine in moderation are able to on this diet. While limiting alcohol to rare instances is best for overall health, you can drink a glass of wine a few nights in a week on this diet.
Check out our Health Benefits of the Mediterranean Diet article to see the whole picture on why this diet is ranked by doctors as being the best.
2. DASH Diet
The DASH diet is right up there with the Mediterraean diet as one of the best and healthiest options. It's especially helpful for those who want to improve their heart health.
DASH is short for Dietary Approaches to Stop Hypertension. The diet emphasizes choosing foods with lower sodium content and eating predominantly fresh, whole foods as much as possible. It's a flexible diet compared to many others, and is one of the most sustainable diets for that reason. Plus, when combined with a calorie deficit, it's a healthful option to lose weight.
Look at our Why the DASH Diet Is One of the Best Diets article to get a better idea if this is a diet that can help you achieve your health and weight goals.
3. Keto Diet
The Keto diet is an increasingly popular diet. It cuts out carbs and emphasizes eating proteins and fats. The diet is high in meat, healthy fats, while low in carbs.
Many have cited successful weight loss results from the Keto diet. But it is one of the more extreme diets because it restricts a lot of the foods you can eat. Some find it difficult to sustain for the long run.
Read our Keto Diet article to get a better idea if it's right for you and how to follow the diet.
4. Intermittent Fasting Diets
Intermittent fasting is when you use timing of meals versus strict elimination of foods to manage your diet. When you do intermittent fasting, you don't eat meals at traditional times on a consistent basis. Instead you go for extended periods of time without eating, and then eat what you normally would for the rest of the day.
Learn more about intermittent fasting in our Does Intermittent Fasting Really Work for Weight Loss? article.
5. Paleo Diet
The goal of the Paleo diet is to eat as close as possible to what our ancestors ate. It's one of the best diets for cutting out processed foods and emphasizing fresh, whole foods. It has been connected with weight loss and improved health outcomes like lower cholesterol.
Check out our Benefits of the Paleo Diet article to learn more about following the Paleo diet.
Get a diet tailored to your goals and the best weight loss support in the Valley
At Valley Medical Weight Loss we help you achieve your weight loss goals with personalized support from our doctors.
You are more likely to lose weight when you have the support of a professional. We offer a number of weight loss programs and diet plans. When you follow any of them, our doctors learn your health history and track your progress to make sure you lose weight safely and efficiently.
To get your first appointment with us and finally achieve your weight loss goals, visit your closest Valley Medical Weight Loss location today.