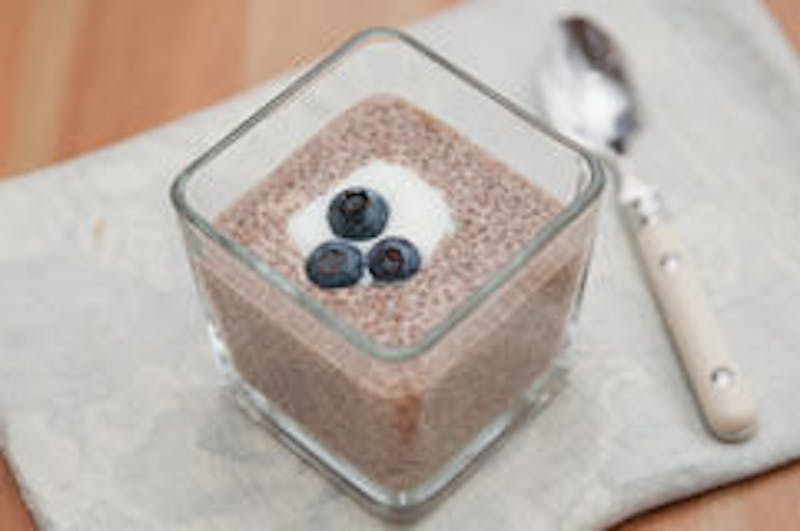 We're probably not alone here when we say that if there's one thing we're not willing to completely give up, it's chocolate. While chocolate does have some health benefits, in most cases, it's paired with too much refined sugar to make it worth it. We've always said that losing weight shouldn't mean that you have to give up everything you love — and chocolate is no exception.
With this mocha chia seed pudding, you'll not only get your chocolate fix, but you'll have the added benefit of healthy fats from the coconut milk and protein and fiber from the chia seeds. You can eat it for breakfast, save it for dessert, or enjoy it as a midday snack.
What You Need:
1 cup coconut milk
1/2 cup brewed coffee
1/3 cup chia seeds
1/4 cup unsweetened cocoa powder
5 Medjool dates (pitted)
1/2 tsp ground cinnamon
1/2 tsp vanilla extract
pinch of sea salt
What to Do:
Add all ingredients except dates to a mixing bowl and stir until fully combined. Pour mixture into a blender with dates and blend until smooth. Transfer mixture to glass jars with a cover (mason jars work well).
Let rest covered in the fridge overnight or at least 3-5 hours (or until it's achieved a pudding-like consistency).
Serve chilled with optional toppings, such as fresh fruit or coconut whipped cream. Leftovers last in the fridge 2 to 3 days, but this chia pudding is best served within a day or two.