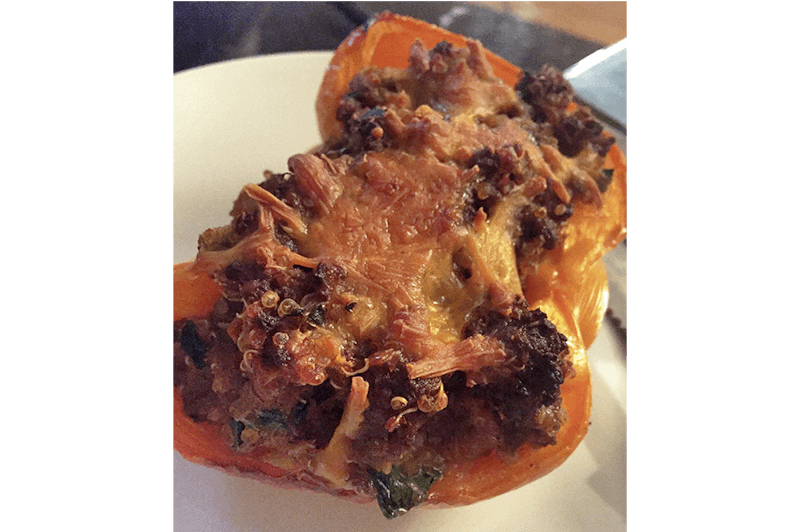 We're always looking for healthy, weeknight dinners that offer a little variety without taking FOREVER to prepare. These taco stuffed peppers are quick and easy and use ingredients that you probably already have in your fridge and pantry. Feel free to adjust the recipe to your liking by adding extra veggies to the turkey mixture or swapping out the meat for black beans.
What You Need:
½ cup quinoa
1 cup chicken stock
1 TBSP chili powder
1 tsp salt
1 tsp ground black pepper
5 tsp ground cumin
½ tsp paprika
¼ tsp dried oregano
¼ tsp red pepper flakes
¼ teaspoon onion powder
¼ teaspoon garlic powder
1 TBSP olive oil
1 small onion, minced
1 lb. ground turkey
1 cup spinach, chopped
3 orange bell peppers (or any color peppers of your choice)
1/3 cup shredded cheddar cheese
What To Do:
Thoroughly rinse quinoa and combine with chicken stock. Bring to a boil and then reduce heat to low and allow to simmer for 20 minutes.
Combine all seasonings in a bowl and mix until incorporated.
While quinoa is cooking, heat olive oil in a skillet over medium-high heat. Add onions and sauté until softened, about 5 minutes. Crumble ground turkey and seasoning mixture into onions and cook until meat is no longer pink. Sprinkle in chopped spinach and stir until spinach is wilted.
Remove from heat, add salsa and quinoa and stir until combined.
Cut peppers in half lengthwise and arrange cut side up in a 9 x 13 in. baking dish. Scoop filling into each pepper and sprinkle with cheese.
Cover with foil and bake at 375°F for 30 minutes. Remove foil, increase heat to 400°F, and continue cooking for another 30 minutes.
Top with cilantro, if desired.