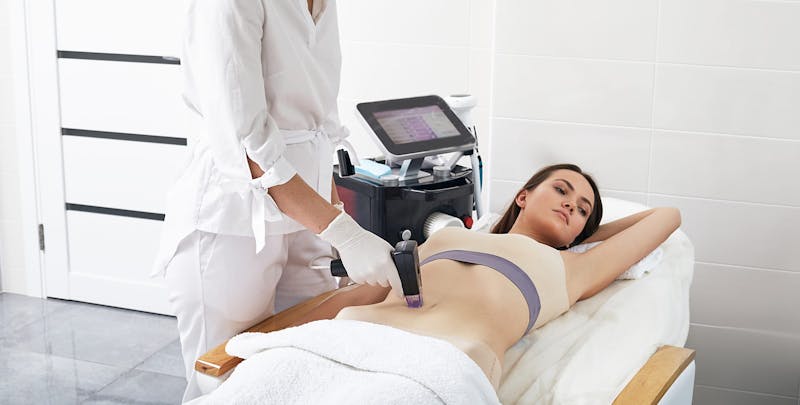 As the desire for non-invasive aesthetic treatments grows, so does the need for patient comfort during these procedures. One of the most exciting and effective treatments on the market is Morpheus8, a non-surgical fractional skin treatment that combines microneedling and radiofrequency. While non-surgical, most medical spas provide Pro-Nox during Morpheus8 to ensure patient comfort.
In this blog post, we'll explore what Pro-Nox is and how it helps make aesthetic treatments more comfortable. We'll also cover the basics and benefits of Morpheus8 treatments.
What is Pro-Nox?
Pro-Nox is a self-administered and FDA-approved nitrous oxide (laughing gas) system designed to provide you with a pain-free experience during your aesthetic treatments. It is a blend of 50% nitrous oxide and 50% oxygen that is inhaled through the lungs. You will feel the sedative effects but you remain awake during your treatment.
Pro-Nox is used to reduce both pain and anxiety during medical procedures, making the experience more comfortable and manageable. It's more effective than topical numbing creams and more comfortable than injected anesthetics.
Is Pro-Nox Safe?
If you have a dental implant or have had your wisdom teeth removed, nitrous oxide is likely what was used. It is also used during minor surgical procedures where it is not necessary for you to be fully sedated. It acts by slowing down your response time and providing a euphoric feeling.
When inhaled, Pro-Nox rapidly enters your bloodstream, taking an almost instant effect. The gas doesn't bind with your hemoglobin, which means that it rapidly exits your system within the next few breaths. This means you recover from the sedative within 5 to 10 minutes.
As a common anesthetic that has been used for over 100 years, it is considered to be generally safe.
What Are The Side Effects of Pro-Nox?
While rare, according to Medical News Today patients may experience short-term side effects when using Pro-Nox during Morpheus8, including:
· Sweating
· Shivering
· Nausea
· Vomiting
· Dizziness
· Fatigue
Also, let our naturopathic doctor or registered nurse know if you:
· Are pregnant
· Have COPD
· Have a respiratory illness
· Have a methylenetetrahydrofolate reductase deficiency
· Have a vitamin B-12 deficiency
· Have a history of mental health conditions
· Have a history of substance use disorders
· Have the microneedling or RF risk factors discussed further below
Can You Overdose on Pro-Nox?
One of the reasons Pro-Nox is a 50/50 blend of nitrous oxide and oxygen, is to all but eliminate the odds of an overdose. When used medically and appropriately, and overdose is highly unlikely.
Healthline advises that overdose is most likely to occur when taken at an amount many times greater than what you would receive in a medical facility. It is far more likely to occur in those who have a nitrous oxide addiction or who are using laughing gas inappropriately.
How to Use Pro-Nox?
Patient comfort is of utmost importance when undergoing any procedure. Comfort is essential for patients to feel safe, secure, and comfortable throughout the treatment.
While a topical numbing cream is also an option, it doesn't provide the same numbing benefits and provides zero anxiety management.
Here is what to expect:
1. Once your treatment is set up and ready to administer, you will be provided with a mouthpiece connected to a nitrous oxide delivery system.
2. Breathe through the mouthpiece until you achieve the desired level of pain management. The effects are almost immediate.
3. After your treatment you will need to wait 5 to 10 minutes to drive home.
Now that you understand why to use Pro-Nox during Morpheus8, let's dive in and take a closer look at the benefits of Morpheus8.
What is Morpheus8?
Morpheus8 is one of many anti-aging therapies we offer at Valley Medical Weight Loss and Med Spa. It is a state-of-the-art, FDA-approved anti-aging treatment, that combines microneedling with radiofrequency (RF) to remodel and rejuvenate sagging, crepey, wrinkly, discolored, or aging areas of the face or body.
The treatment targets the deeper layers of the skin, which stimulate the skin's building blocks, activating natural anti-aging. On their own, microneedling and RF are powerful—together they are optimized.
Radiofrequency
RF works by sending short, concentrated, and pain-free bursts of energy through the skin to tighten and tone by stimulating collagen and elastin production.
Microneedling
Microneedling uses a series of thin pins to penetrate the layers of skin between 0.5mm and 8mm to resurface and tighten and tone by stimulating collagen and elastin production.
Microneedling is not as painful as it sounds, but it's not pain-free, which is why Pro-Nox is used during Morpehus8.
The dual-modality treatment is ideal for:
· Skin tightening
· Wrinkles
· Fine lines
· Acne scars
· Scars
· Enlarged pores
· Sun damage
· Molar bags
· Sagging cheeks or jowls
· Loose or sagging abdominal skin
· Loose or sagging back skin
· Hyperhidrosis/excessive sweating
You can further optimize your results by using Morpheus8 in combination with FORMA and PRP.
What Areas of the Body Can You Use Morpheus8?
You may have multiple areas of the body that you want to address. Begin with one area, then move on to the next. Treatments can be applied to restore a youthful and healthy appearance to the:
· Face
· Jaw
· Neck
· Arms
· Abdomen
· Back
· Labia
· Legs
· Hands
· Feet
· Armpits (Hyperhidrosis)
Who Is Morpheus8 Right For?
The ideal candidate is between the ages of 30 and 55, in relatively good health, and has visible signs of aging. Most candidates are also searching for a surgery-free method of improving their appearance.
Morpheus8 is safe on all skin types, including VI/dark pigments, delivering anti-aging benefits with minimal risk of hyperpigmentation. This is exciting, as most resurfacing methods come with much higher risk for skin that is VI/dark.
Who Isn't Morpheus8 Right For?
A medical intake will be completed prior to your treatment. This is to ensure that you are an ideal candidate for the treatment and for using Pro-Nox during Morpheus8.
Earlier in this blog we covered who Pro-Nox isn't safe for. Microneedling and RF may not be advised if you:
· Are pregnant
· Have extreme acne
· Are taking acne medication
· Have a blood disorder
· Are on anticoagulants
· Are undergoing chemo or radiation
· Have a rash, dermatitis, or cold sore
· Are prone to keloids
· Have eczema or psoriasis
· Have a sunburn
· Have inflammation or irritated skin
How Long Does Treatment Take?
Your treatment will take at least 60 minutes, up to 90 minutes for larger treatment areas.
With the ability to drive afterward, some clients head back to work. However, your skin will be red and makeup cannot be applied for 48 hours, so plan accordingly.
How Long Does It Take To See Results?
Radiofrequency and microneedling stimulate collagen and elastin production directly after use. This accelerated production lasts between 3 and 6 months. So, your results will be almost immediate and will gradually improve over time.
A few weeks are required between treatments to ensure ample time for the tissue to recover between treatments. It also provides enough time for you to see the results between treatments.
· Light treatments require 2-4 sessions every 3-4 weeks.
· Aggressive treatments require 1-3 sessions every 3-6 weeks.
· A maintenance session is recommended every 6 months.
What Are The Side Effects and Post-Care for Morpheus8?
Here are our 2023 post-care guidelines. Personalized or updated guidelines are presented to each patient.
· Immediately after treatment, you may experience erythema (redness) for 1-3 days. However, for more aggressive treatments erythema may last longer. Slight to moderate edema (swelling) and a mild to moderate sunburn sensation are also common post-treatment and may last 1-3 days.
· Apply Bacitracin and Aquaphor to the treated area for 2-3 days post-treatment.
· Skin may crust and peel for 2-7 days depending on treatment settings.
· Before discharge, a topical ointment may be applied to the face, no bandages or wraps are necessary.
· There are no restrictions on bathing except to treat the skin gently and avoid scrubbing and trauma to the treated area.
· Avoid sun exposure for 3 weeks to reduce the chance of hyperpigmentation.
· No make-up can be applied for 48 hours.
· Use a zinc oxide sun block SPF 30+ at all times starting 48 hours post-treatment.
· Change your pillowcase on the evening of your treatment to avoid bacteria near/on the treatment area.
· Avoid touching your face/cheeks with your cell phone for 48 hours. Using a speaker phone or earbuds is recommended to avoid a rash or other adverse event.
· Contact us immediately if there is any indication of infection, excessive swelling, redness, pain, or any other unusual or untoward symptom.
· Multiple treatments over a period of several months may be required to achieve the desired response. We will advise on your treatment schedule.
Conclusion
Using Pro-Nox during Morpheus8 is ideal as it provides fast and effective pain relief, ensuring a comfortable aesthetic treatment. Nitrous oxide is a generally safe and reliable method of light sedation. Not only does it reduce the pain and discomfort of the treatment, but it provides patients with the ability to drive themselves home afterward.
If you live in Phoenix, Glendale, or Tempe and would like to learn more about your non-surgical anti-aging options—reach out to Valley Medical Weight Loss and Med Spa. If Morpheus8 isn't right for you, we have several other non-invasive options to explore!