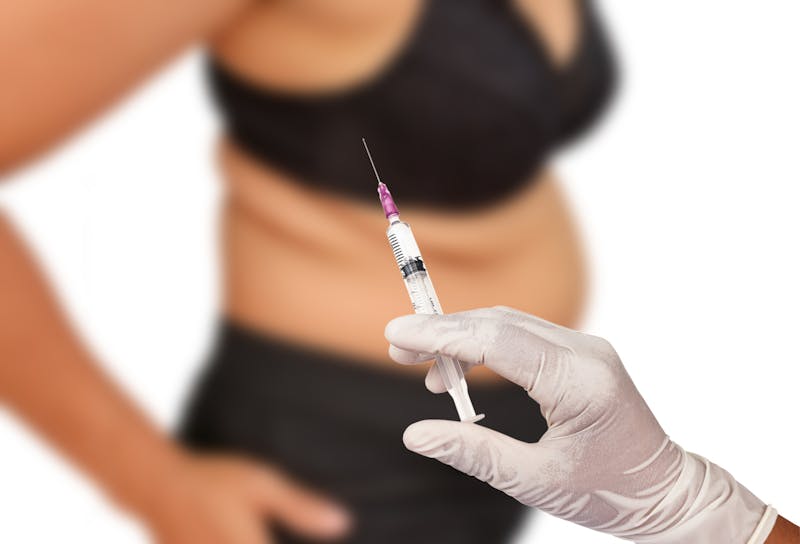 Glutathione is a naturally occurring antioxidant that your body creates to reduce oxidative stress. It plays an essential role in your immunity, warding off diseases such as cancer, diabetes, and rheumatoid arthritis. It also supports a variety of essential functions, including weight loss, improved skin tone, increased energy, improved cognitive function, workout recovery, and more.
Glutathione production naturally slows down as you age. To offset this decline, you may consider taking a daily supplement. Like many supplements, digestive enzymes break down nutrients before they can enter your bloodstream. This has many turning to injectable glutathione.
What is Glutathione?
Most antioxidants are consumed in the foods we eat, but glutathione is one of the few antioxidants that is produced by your body. It is a tripeptide and a combination of three amino acids:
Cysteine

Glutamic acid

Glycine
While produced by your body, there are foods that can stimulate glutathione production. This includes:
Sulfur-rich foods, including broccoli, brussels sprouts, kale, and beef.

Foods high in vitamin C, including citrus, bell peppers, papaya, and strawberries.

Selenium-rich foods, including Brazil nuts, brown rice, chicken, and cottage cheese.

Foods that contain glutathione, including avocado, spinach, asparagus, and okra.

Herbs such as milk thistle and turmeric, which you can take in tea or supplement form. You can also use more turmeric when you cook.
Healthline advises that glutathione production also slows down when you don't get enough sleep and don't engage in regular physical activity. Even with foods and supplements, to keep up with the rate at which production declines as you age, you may want to consider weekly injections.
Now, let's dive into how glutathione works in your body.
#1 Improved Immunity
Your immune system is your body's natural defense system, and glutathione plays a vital role in supporting your immunity. We are all exposed to oxidants (aka. free radicals and toxins) on a daily basis. From the air we breathe to cleaning chemicals, UV exposure, processed foods, and more. Oxidants decrease immunity and antioxidants restore immunity by clearing our system of harmful free radicals.
Glutathione can:
Help to restore the body's normal immune system function when you are sick.

Reduce the risk of illness and infections, making it ideal during cold and flu season.

Regulate internal functions decreasing your risk of cancer, diabetes, and rheumatoid arthritis.
Oxidation also causes internal inflammation, which is something you cant's see, but may feel physically, mentally, and emotionally.
#2 Detoxification
Injected glutathione rapidly enters your bloodstream, where it is synthesized in your liver. Your liver plays a vital role in helping your body detox. Detoxing goes beyond minimizing oxidative stress, to removing excess fat stored in your liver.
Glutathione has been proven to improve the protein, enzyme, and bilirubin levels in those with both alcoholic fatty liver disease and nonalcoholic fatty liver disease.
Even if you don't have fatty liver disease, you can kickstart weight loss by detoxing—which is why we suggest our injectable glutathione with our MIC shot as part of our Premier Weight Loss Program .
This monthly program is for anyone who is ready to commit to scientifically proven strategies. We also offer a Weekly Weight Loss Program .
On that note, let's dive a bit deeper into how glutathione aids in weight loss.
#3 Weight Loss
Weight loss is directly linked to your metabolic rate. Your metabolism refers to how much energy (calories) your body requires to do all the things it does on autopilot. This includes digesting nutrients, processing waste, fighting free radicals, balancing hormones, breathing without thought, and more.
Glutathione injections aid in weight loss by:
Helping your body build more muscle, which is essential because muscles require more energy than fat.

Optimizing liver function to burn off more stored fat.

Regulating blood sugar levels for diabetics and non-diabetics alike, which can minimize weight gain.

Minimizing muscle fatigue and supporting your body in muscle recovery after working out.
#4 Scars and Dark Spots
Glutathione's high antioxidant content protects the skin from oxidative damage that contributes to fine lines and wrinkles. While it can't replace your topical antiaging skincare products, it can complement them.
Where this amino acid really shines, is in inhibiting melanin production. Melanin is the pigment that gives you your natural skin color.
Overall, it can help:
Brighten dull skin

Minimize scars

Minimize dark spots

Minimize discoloration

Improve skin texture and tone

Enhance elasticity
And more!
#5 Cognitive Function
Studies find that minimizing oxidative stress in the brain is essential for both everyday cognitive function and minimizing the risk for and progression of neurological disease. This is because oxidants create inflammation in the brain (and body) and kill brain cells.
The less inflammation in your brain, the longer you can stay focused and clear, and the less likely you are to experience brain fog.
Alezheimer's.gov also found that low levels of glutathione are linked to an increased risk for Alzheimer's disease. This is exciting news, as a proactive approach to cognitive function is the best approach.
#6 Balanced Hormones
One of glutathione's many roles is producing hormones, including estrogen, progesterone, and testosterone. While we all experience hormonal fluctuations during different seasons of life, your injections can help your body balance your hormone levels.
For example, insomnia is a common symptom of menopause, but glutathione has been proven to minimize the oxidative stress that contributes to insomnia .
There are a multitude of factors that contribute to hormonal fluctuations, including high levels of stress. When you are stressed out your body produces more of the stress hormone cortisol. Too much cortisol causes a negative ripple effect throughout your body.
This is one of the many reasons to take an active approach to managing your stress. Glutathione can be part of your stress-management routine.
#7 Improved Sleep
Melatonin is another hormone that injectable glutathione can help your body regulate. Melatonin helps you fall asleep, stay asleep, and wake up feeling refreshed.
You can also take melatonin supplements or use creams and patches, but you may be able to minimize your need for them with your weekly amino acid injections.
Just like we mentioned above, reducing oxidative stress in the body minimizes inflammation and improves your quality of sleep. It's a vicious cycle, as reduced sleep can contribute to decreased glutathione production.
So, if you have trouble sleeping, your weekly injection may be one of the ways to personalize your sleep routine.
Looking For Glutathione Injections in the Phoenix Area?
Glutathione injections offer a variety of whole-body benefits. You are likely to have a specific objective above, which we can discuss during your initial appointment. Once we create your personalized weight loss, antiaging, or wellness plan—you can walk into Valley Medical Weight Loss and Med Spa anytime for your weekly injections. Just make sure you arrive at least 20 minutes before we close.
For optimal results, we suggest injectable glutathione twice per week. Your wellness plan may include other therapies, injections, or treatments.
FOR YOUR CONVENIENCE, WE OFFER BUDGET-FRIENDLY CASH PRICING:
Single injection cost $20

10 packs cost $150
OUR HOURS ARE:
Mon, Tue, Thu, or Fri between 9:00 am to 4:30 pm.

Saturdays from 8:00 am to 1:30 pm.
You can also come in for one of our many immunity injections during cold and flu season or to accelerate recovery when you are sick. Reach out today if you have any questions!