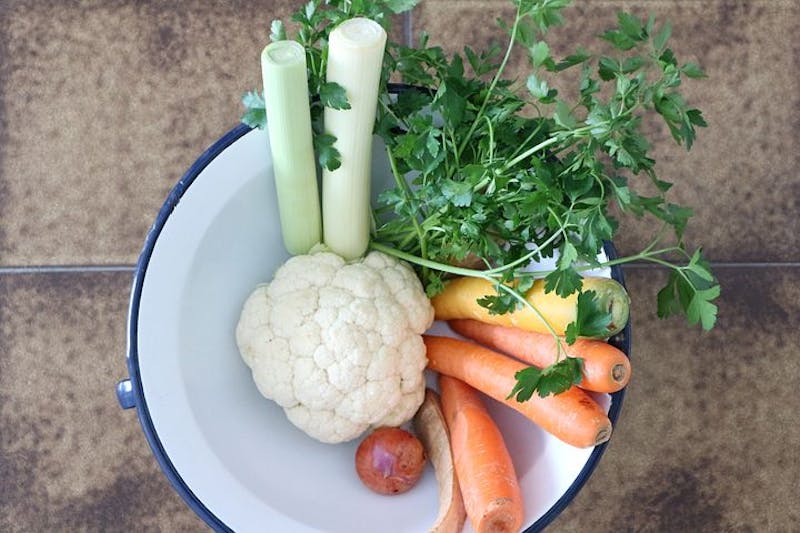 Cauliflower is all the rage right now, and rightfully so. Nutrition bloggers have shown that the versatile, low-carb vegetable can be transformed into everything from pizza to breadsticks to mac n cheese. This cauliflower soup may be #basic compared to some of the things you can find on Pinterest, but we like to keep things simple.
We know that you don't want to spend a lot of time (or money) in the kitchen if you don't have to. This recipe is inexpensive, easy to whip up, and absolutely delicious.
Cream of Cauliflower Soup
Serves 6
What You Need:
1 large head cauliflower, chopped into bite-sized pieces
3 medium stalks celery, diced
1 medium carrot, peeled and chopped
2 cloves garlic, minced
1 large yellow onion, diced
2 teaspoons ground cumin
1 teaspoon sea salt
1/2 teaspoon ground black pepper
About 2 cups bone broth
1 tablespoon chopped fresh parsley
1/4 teaspoon dried dill weed
What To Do:
In a large stockpot, combine cauliflower, celery, carrot, garlic, onion, cumin, salt, and pepper.
Add bone broth to just cover the ingredients in the pot. Bring to a boil over high heat.
Reduce heat to low. Simmer until vegetables are tender, about 8 minutes.
Use an immersion blender to blend soup, or transfer to a blender and blend until pureed.
Stir in parsley and dill before serving.